Canadian banks are hated and cheap. I'm buying.
Tobacco is historically the most profitable industry for shareholders over the long run.
Energy stocks are still fairly cheap.
My rationales for buying and what stocks I'm using to express my ideas.
1. Canadian Banks
Did you know that since 2000, Canadian banks have all returned double digits annually for USD-based shareholders? They're perpetually cheap and have had great returns for decades. One reason is that unlike their US-based cousins, Canadian regulators have always forced banks to hold enough capital to cover adverse loss events. This prevents overleverage, and forces management to think 3-5 years ahead, rather than 1 quarter ahead.
I own Bank of Nova Scotia (BNS) and Bank of Montreal (BMO) because they've had the best risk-adjusted returns over time of the big 5 Canadian banks. Both have returned over 12 percent compounded annually over the last 20 years, which is fantastic for conservatively run companies.
I pulled volatility and return data for the largest American banks (bottom right), and Canadian banks (top left) since 2000. Canadian bank performance has consistently dominated American banks, which I attribute to their inability to overleverage themselves.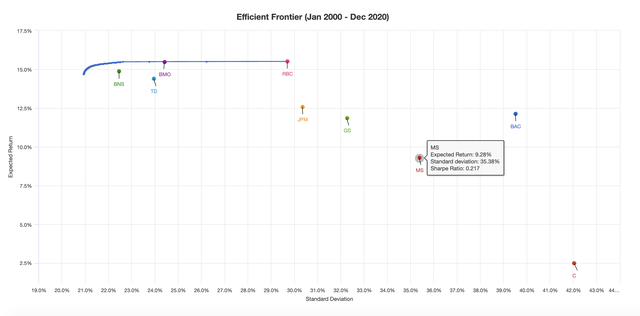 Source: Portfolio Visualizer
BNS yields 5.3 percent, and BMO yields 4.2 percent. For BNS, analysts estimate $4.82 in USD earnings for 2021 and $5.52 for 2022. For BMO, analysts estimate $6.58 for 2021 and $7.44 for 2022.
Both stocks trade around 10x 2021 earnings, and I think they can grow earnings at 3-4 percent annually after the pandemic is over. This leads me to an expected IRR of 13-14 percent annually for both stocks. The Canadian response to the coronavirus pandemic has been harsher than the US, but for both countries, vaccination should work in the medium term as it has for every other disease with an effective vaccine, mathematically giving the virus fewer and fewer outs until it is marginalized.
2. Tobacco
With all the technological improvements of the 20th century, no industry did better for its investors than tobacco. Tobacco is a capital-lite, high-margin business that, for all its flaws, has turned a bountiful profit for shareholders. What many people don't know is that the founding fathers of America built much of their fortunes off of tobacco. State governments in the US similarly profit massively off of tobacco, they could ban it if they wanted to.
In his 2005 book The Future for Investors: Why the Tried and True Triumph Over the Bold and the New, Wharton professor Jeremy Siegel found that Altria (MO), formerly known as Philip Morris, delivered an annual return of 17 percent with dividends reinvested from 1925 to 2003, the highest in the S&P 500. Since 2003, I can fill in the gap and tell you that MO has returned 14.6 percent annually, despite the recent drama over Juul and the goodwill they paid for it. Even more interesting is that nearly the entire time, Phillip Morris traded for a below-average valuation and had an above-average dividend.
Even more interesting is these returns have occurred amid cigarette volume declining greatly over the last half-century (although it's back up since the pandemic, go figure). I like Altria and Phillip Morris International (PM). I don't smoke, but I do own shares in both.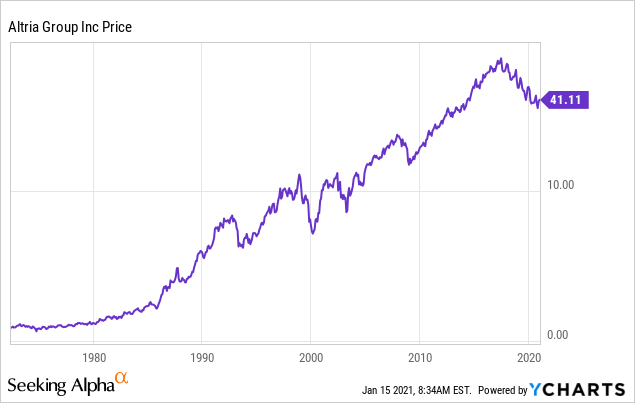 Altria share performance (log scale)
3. Energy
Jeremy Siegel found in his same study that Standard Oil (now known as Exxon Mobil (XOM)) returned over 14.4 percent annually for shareholders.
I argued in December that buying Exxon Mobil now could be like buying banks in 2009. So far, so good, although the valuation has risen about 20 percent along with the value of my shares. I think there's still plenty of runway with the dollar getting weaker. Energy isn't a universally great investment over time, so I pay a lot of attention to the boom-and-bust cycle of oil, buying when everyone hates it and selling when contangos start to form. I don't consider myself a genius, but I've always done well trading energy stocks. Traditional value investors often fail to consider energy stocks, because energy stocks look cheap when they're expensive (when earnings are sky-high) and expensive when they're cheap (when companies break even or even show losses). Value investors in commodity companies should do the exact opposite of what they're trained to do, which is to buy when P/E ratios are high and sell when they're low.
I like ConocoPhillips (COP) as well, and their spin-off Phillips 66 (PSX). Conoco's management team is a little better than Exxon's in my opinion, but Exxon is paying a better dividend, which I expect them to maintain, especially as oil has risen sharply off the lows.
Conclusion
I'm finding nice value in a variety of industries, everything from real estate to tobacco to energy to financials. That said, I think each of these picks I've presented has the potential to outperform the S&P 500 by a nice margin over the next 3-5 years. With equity valuations stretched and great value to be had in hated stocks, value investing may have its best year yet in 2021.